VW Camper Van Reupholstery
Over the last 14 years, our work has seen us acquire an abundance of experience reupholstering VW interiors, from Camper Vans to Beetles. We guarantee that any fabric we use when working on your VW Camper Van reupholstery will be of excellent quality, will meet fire regulations and will be exceptionally durable and easy to clean.
What are my options?
As a company, we understand that your Camper Van means a lot to you, you take pride in it and want it to look its best. When you choose Hill Upholstery to rejuvenate your VW seat upholstery, you are giving yourself choice and will receive unbeatable customer service. We offer you a selection of finishes to choose from, from fluted, piped and plain. We can supply contrasting colour fabrics and are happy to work alongside your own design, creating you a unique interior that will wow you each time you get in and that will last. Alternatively, if you are not sure what interior you would like, we can discuss your many options with you, while considering your own tastes and requirements.
VW Camper Van Reupholstery services we offer: 
Door cards – upholstery on the inner side of the doors;
Rock & Roll bed – the cushion that rolls out into a bed;
Boot cushion – the cushion that sits in the boot area, which extends the bed area once the R&R bed is rolled out;
Wheel cover – a protective cover for a spare wheel;
Roof bed cushion – a bed cushion for campers that have a roof sleeping area;
Buddy seat – small cushion that sits on top of a small seat area;
Front seats.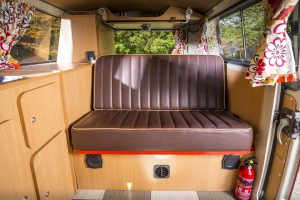 We are able to just re-foam or re-pad your VW Camper Van if your current upholstery does not need recovering. Alternatively, can just recover if re-foaming / re-padding is not necessary for you van.
Who we work with
Hill Upholstery & Design work closely with fellow Fobbing business VW Downunder, a company who specialise in refurbishing VW Camper Vans. We take on all their VW seat upholstery when required. As a company, they understand how much your VW means to you and use our services as they know that we appreciate good quality craftsmanship that will only complement the work they do.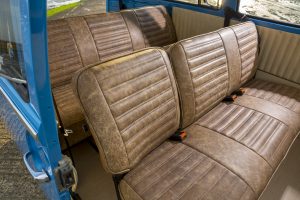 To see image gallery of VW Campervan Reupholstery work please click here.
---
If you'd like to find out more about having a VW Camper Van Reupholstery, then do get in touch and we'd be happy to help.