How we can help you with your commercial upholstery project…
Hill Upholstery and Design provides commercial upholstery services to our clients in London and the South East. Assisting and advising architects, interior designers and fit out companies with the upholstery element of their interior fit out projects. Previous commercial projects include restaurants, clubs, residential and office fit outs.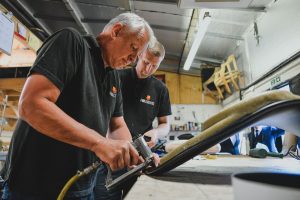 With more than 35 years' upholstery experience and 17 years in business, we understand the pressures that our clients face from budgeting through to meeting tight deadlines.
That's why we offer a range of finely-tuned services especially for commercial upholstery and contract seating that can be tailored to suit your project, keeping you in control of the process, from practical design solutions to site visits and safety scrutiny.
From manufacturing bespoke furniture, completing repairs on or off site to supplying a range of contract furniture, our products and services are by no means exhaustive. We are always excited to work on something new and we continually strive to keep updated with the latest trends and methods. Get in touch with details of your project today.
Our products & services especially for commercial upholstery include:
Designing & manufacturing bespoke furniture
Repairing furniture on/off site
Reupholstering furniture
Supplying contract seating
Restoring antique furniture
Recovering damaged sections
Reception seating
Banquette seating
Reception and bar fronts
Office chairs & desk dividers
Sofas and occasional chairs
Wall panelling, including headboards, wardrobe & drawer fronts